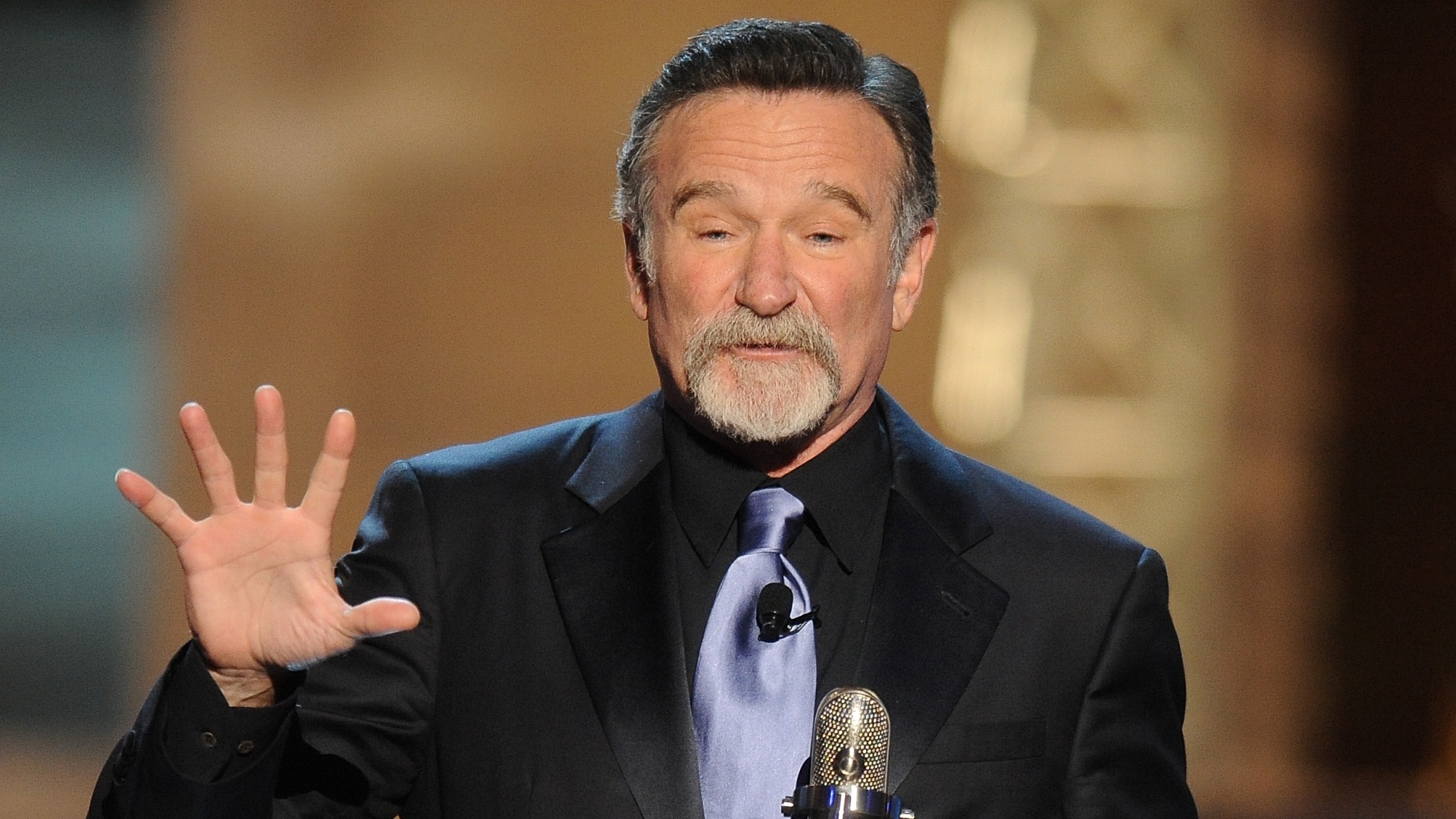 Robin Williams passed away yesterday and it broke everyone's heart. I follow a lot of comedians on Twitter and there were tons of really sweet stories and sentiments shared about Robin Williams. There was consensus among the comedy community that not only was he one of the greatest performers but he was also one of the greatest men offstage. Comedian Dana Gould shared this story on his tumblr.
Two years ago, I was performing at The Punchline in San Francisco, and Robin came to the show with our mutual friend, Dan Spencer.

This particular batch of material was the first time I had touched upon my then still-fresh divorce wounds, and big chunks of it were pretty dark. The next day, I got a text from a number I didn't recognize. Whoever it was had obviously been to the show and knew my number, so I figured they would reveal themselves at some point and save me the embarrassment of asking who they were.

The Mystery Texter asked how I was REALLY doing. "You can't fool me. Some of those 'jokes' aren't 'jokes." By now I knew that whoever this was had been through what I was enduring, as no one else would know to ask, "What time of day is the hardest?"

He wanted to know how my kids were handling it, all the while assuring me that the storm, as bleak as it was, would one day pass and that I was not, as I was then convinced, a terrible father for visiting a broken home upon my children.

I am not rewriting this story in retrospect to make it dramatic. I did not know who I was texting with. Finally, my phone blipped, and I saw, in a little green square, "Okay, pal. You got my number. Call me. I've been there. You're going to be okay. - Robin."

That is what you call a human being.
Paul F. Tompkins, another great comedian, shared his feelings about Robin Williams. You can read the whole thing here but I really identify with this paragraph:
Robin Williams made me laugh so many times. So many times. When I was a kid, having problems of my own, feeling unpleasantly different from the people who populated my world, I found sanctuary watching this guy on TV who was celebrated for being a weirdo, for being an oddball, for being silly. He was praised for having a mind that produced delightful absurdities with great speed. No one told him to be quiet. No one tried to make him act like everyone else.
This is just a small sample of a million posts that echo these same thoughts.
Robin Williams took his own life yesterday and the world was devastated. Not only was there an outpouring of love for the comedian but there was also a great deal being said about suicide, depression, and mental illness.
We can't forget about the ones we've lost but we must never lose focus on the ones we're going to lose unless things change.
When it comes to issues like suicide and depression we're not the best at handling them. We're like a group of grown men standing around and it's not until one of them poops their pants that everyone says "gee, I better go to the bathroom." We can't wait until the next life is taken from us before we deal with depression and mental illness again.
If you're experiencing depression or thoughts of suicide, you're not alone. You can get help. There are people all around you who will love and support you. Don't keep it bottled up inside. Don't ignore it.
If Robin Williams, one of the funniest/joyful/kindest men, can be affected by it, anyone can.
We were all so shocked when we heard the news yesterday. You never know what someone else is going through. Let that influence how we treat everyone we come in contact with in our lives.
We can't let this issue only come up when it takes another life.
Nanu nanu